After taking a bit of a decorating hiatus in January and February, I've planned to set aside funds for the bathroom this March! Because my bathroom doesn't have an external window, I'm hoping to lighten up the space with this bright and cheerful color palette while carrying over the gray & silver elements from my bedroom palette.
So far, I've purchased the towels and am planning on finally giving into my obsession with west elm later this week to purchase the accessories. My bathroom is a bit low on storage space so my makeup bag is always hanging from the towel rack, which I really like from an accessibility/ease of getting ready standpoint, but I know it's not exactly cute – that's why I found this one on Etsy and am considering contacting the seller to have it made in with yellow leather.
I'm still unsure about whether I want to tackle painting the bathroom, simply because our apartment is a rental. We're absolutely allowed to paint, but are required to paint everything back to the standard color before moving out. The current paint job in my bathroom is TERRIBLE and every time I am in there I get annoyed about it. It will definitely require a lot of patience and painter's tape… If I do it, I'll go with a gray with more of a brown undertone than my bedroom, which has a purple/blue-ish undertone.
I'm planning on carrying over the silver accents that I used in my bedroom to the bathroom with  pieces like this candle from Anthropologie and these shower curtain hooks from Kohls.
Today I'm linking up with Beth over at Design Your Dwelling for her Mood Board Link Party! Click the button belowto see hers and other bloggers' home design boards!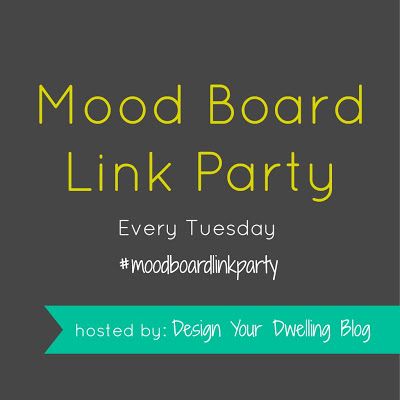 xoxo,
E
Subscribe to All Things E Blog by Email
 Follow All Things E on: Bloglovin'   |  Twitter  |  Google+  | Pinterest | RSS